UI/UX | Industry 4.0
Custom UI Components
Take advantage of a customised User Interface designed to improve the efficiency and quality of human-to-machine interaction.
Improve UI/UX standards in your facility based a custom approach:
Custom implementation based on a reliable UI/UX principles..
A dedicated project team of developers, engineers and PMs.
10-year experience in building complex software solutions.
Contact Sales
"*" indicates required fields
Achieve more while lowering costs
VirtusLab helps manufacturing companies achieve more at lower cost and unburden the environment. We build long-term business relationships with our customers based on a profound partnership, its people as foundation.
Turn data into desicions
Our vision is to implement an innovative manufacturing management system in close cooperation with our customers. Use a digital twin that turns a stream of data into actionable insights. At the same time we help you automate repetitive activities and processes.
Tap into our experience
Take advantage of VirtusLab's experience in creating custom manufacturing software and speed up implementation. We tailor software to your needs, omit bottlenecks and optimise your manufacturing processes.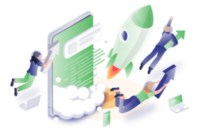 It's our responsibility
Our planet
…because earth doesn't have a twin
Optimising manufacturing and logistic processes allows people to live better in a cleaner environment — when done correctly.